siRNA & ノックダウン 検証について
Antibody specificity has been cited as a major cause of concern among users in independent literature (1-3) and is ranked as the most important factor for choosing a new antibody supplier. (4).
RNA interference (or RNAi) is the most definitive test of antibody specificity short of using knockdown animal models, yet has not been applied to the routine testing of antibodies in the antibody industry at present. Proteintech's RNAi procedure will be routine for all new products in the future and has already been retrospectively applied to existing products in several stages.
In rolling out its own RNAi testing, Proteintech will make a gold standard of antibody validation more accessible to all life scientists at a crucial stage: before they commit valuable time and resources to antibody-based experiments. This move sets a new industry benchmark, with perhaps the further-reaching implications of raising validation standards of commercial antibodies on the whole.
Proteintech siRNA validation showcase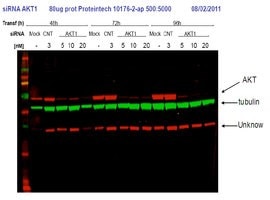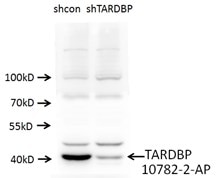 siRNA AKT1 result from Dr. Eva Martinez-Balibrea. Green:tubulin. Red:10176-2-AP, AKT1
A549 cells (shcontrol and shRNA of TDP43) were subjected to SDS PAGE followed by Western blot with 10782-2-AP (TARDBP antibody) at dilution of 1:1000.
Proteintech antibodies included in the showcase:
Over 1000 antibodies in the Proteintech catalog have been tested with siRNA-treated samples.
| | | | |
| --- | --- | --- | --- |
| Antigen name | Cat No. | Application | Type |
| AKT antibody | 10176-2-AP | ELISA,WB,IHC,IP,FC | Rabbit poly |
| TDP-43 antibody | 10782-2-AP | ELISA,IF,WB,IHC,IP,FC | Rabbit poly |
Look out for icon on our datasheets. This icon shows when our antibodies have been tested in siRNA-treated samples.

---
References
(1) Couchman JR. Commercial antibodies: the good, bad and really ugly. J Histochem Cytochem.2009;15(1):7-8
(2) Kalyuzhny AE. The dark side of the immunohistochemical moon:industry. J Histochem Cytochem.2009;15(12):1099-1101.
(3) Pradidarcheep W, Labruyere WT, Dabhoiwala NF,Lamers WH.Lack of specificity of commercially available antisera:better specifications needed.J Histochem Cytochem.2008;15(12)1099-111
(4) Christi Bird. Antibody user survey. The Scientist magazine.2012 May 1, www.the-scientist.com